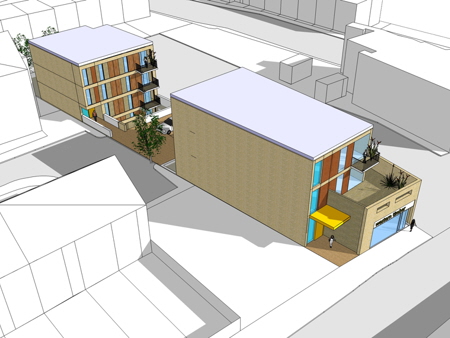 WESTERN ROAD, SOUTHALL, EALING UB2
The submitted planning application seeks permission for the redevelopment of Western Timber Ltd. Located in Southall, London Borough of Ealing, the site comprises a rectangular shaped parcel of land, approximately 0.069 hectares in size, fronting onto Western Road. The character of the immediate context is predominantly residential and the site falls within a residential designation on the Council's Proposals Map.
The proposed mixed-use development comprises 9 flats arranged over two blocks of three and four storeys respectively, with a 1,140 ft² of retail space at ground floor level. The proposal seeks to continue the massing of the adjacent buildings and creates a marker building on the bend of Western Road, replacing the poor quality building.
Vehicles and pedestrians will access the site from Priory Way (currently closed off by a boundary wall). Private garden space is proposed at lower ground level, whilst upper floor flats benefit from generous balconies or roof terraces.