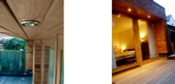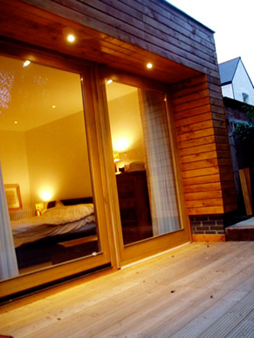 RONDU ROAD, LONDON NW2
Completed in 2008, the development consists of the demolition of the existing rear /side conservatory and its replacement with a new, larger full width rear extension, including some internal alterations.
Located on the south-east side of Rondu Road, the new structure at ground floor level facilitates a family kitchen/ day room and a third bedroom, with the aim of accommodating the needs of a growing family. At first floor level, part of the new extension serves as a roof terrace for the first floor flat. Timber trellis privacy screens prevent overlooking adjacent properties.
The proposed extension is a light weight construction, clad in timber with large areas of glazing towards the rear, intended to improve the relationship between the house and the garden. The roof glazing above the dining area draws additional light into the building and improves the quality of living in the now internal day room.