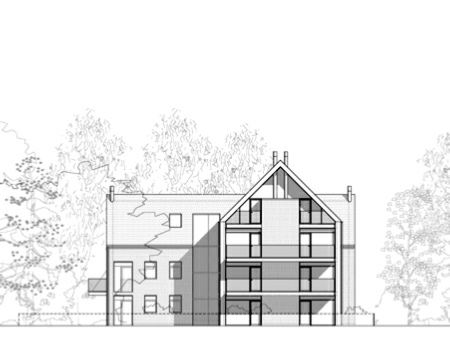 QUEENS ROAD, BUCKHURST HILL IG9
The submitted planning application seeks permission for the redevelopment of a site located on Queens Road. It comprises a triangular shaped parcel of land, approximately 0.029 hectares in size and shares road access to garages and car parking spaces at the rear of the site with No. 1 to 5 Buckhurst Hill House. Residential accommodation is encouraged from a land use policy perspective.
The proposed development has an 'L' shaped footprint that follows the triangular form of the site. The street frontage follows the existing frontages of Queens Road and the adjacent Knighton Lane.
The proposals are for a two and three storey pitched roof development comprising 8 one bed and 6 two bed flats for market sale.
The built form has been designed to respect the existing built form on the site and the character of the surrounding area. The proposal also uses materials which are commonly found in the surrounding area and respect the local vernacular. In addition, fenestration patterns and feature materials have been chosen to complement and enhance the local environment.
Private garden space is proposed at lower ground level, whilst upper floor flats benefit from generous balconies. A combination of simple paving and hard landscaping will feature where vehicular and pedestrian circulation is proposed.