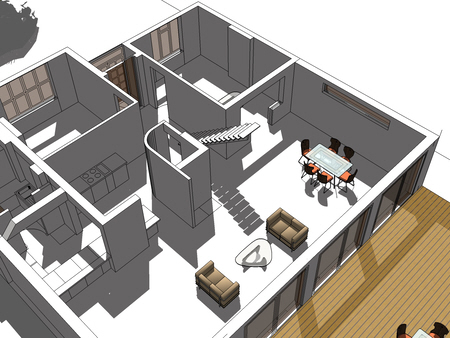 5 PURBERRY GROVE, EWELL, SURREY, KT17 1LU
Full Planning Permission has been granted for the demolition of an existing garden extension and conservatory to a three bedroom detached family house and its replacement by a full width two storey rear extension.
Located in Purberry Grove, the aim of the proposed extension is to facilitate a new open plan environment at ground floor level allowing for family activities to be shared. Part of the existing kitchen walls will be demolished to allow for better natural light and a larger family kitchen/ dining room. Additional light will be drawn into the building and an improved relationship between the house and the garden will be achieved.
A generous feel is given to the entrance lobby by replacing the existing stair and opening up views through the house from the front entrance to the back garden. At first floor level one additional bedroom and a big family bathroom are created.
The quaint vernacular appearance of the existing building will be maintained by incorporating the new first floor under a tiled sloping roof. The ground floor projects beyond the building line above, to the extent of the existing extension. The footprint of the existing rear extension is incorporated into the new open plan layout at ground floor level.