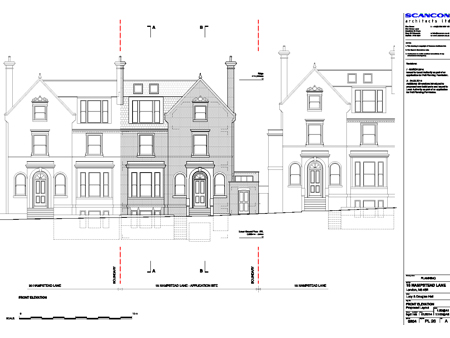 HAMPSTEAD LANE, LONDON N6
The project gained planning permission and conservation area consent in 2014 and is currently under construction.
The proposals include the infill of a central light-well and obsolete fire escape within the roof structure to form a new roof extension including a new front dormer window to match adjacent windows to all remaining houses within the terrace.
At the rear, it is proposed to remove the raised terrace facing the garden and replace this with a single storey part 3.95m deep / part 2.95m deep extension, spanning the whole width of the host building. Additional internal alterations to the ground floor will facilitate the replacement of the previous servants' kitchen and quarters with a new open plan family kitchen / living / dining space, featuring direct access to the garden.
The extension is to be constructed from stock brick and capped with a stone coping to match the host building. The opening towards the garden is characterised by wide aluminium frame glass sliding doors.
It is also proposed to widen a rear roof dormer to match the structural opening of a first floor window below in keeping with adjacent properties and to introduce various new roof-lights within the existing roof pitch.
Furthermore, an existing external store below the main entrance stair at lower ground floor level will be converted to a wet room serving as an en-suite to Bedroom 6, while an additional soil vent pipe towards to rear of the existing side elevation facilitates a new Master En-Suite bathroom.
The existing side extension will be excavated towards the rear to provide additional storage space to the lower ground floor.