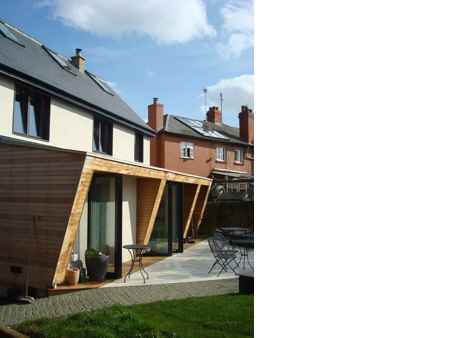 1 MILL ROAD, KISLINGBURY, NORTHANTS NN7
Completed in 2008, the development consists of a substantial two storey pitched roof front and side extension and an independent single storey rear extension, to an existing 1960's detached family house. The proposals also include a loft conversion within the existing house, the refurbishment and part reconstruction of an existing outbuilding and the redesign of the front and rear garden.
Located on the village green the site adjoins a local conservation area and is overlooked by two grade II listed buildings. Although the original house has been greatly altered the distinctive roof slope, which dominated the front elevation, has been retained and replicated for the new extension opposite.
The single storey rear extension has been separated from the main building by a continuous strip of glazing to allow natural light to penetrate the building and to create a dramatic transition between old and new. A projecting roof cantilever beyond strategic openings towards the garden and protects the substantial glazed screens from direct sunlight and the elements. Level thresholds and matching materials have been designed to blur the boundary between inside and outside spaces, emphasising the concept of garden as yet another room within the house.
Internally an entire rear corner of the property has been removed at ground floor level to create a large open-plan family living space and structural loads from above are dramatically transferred outwards onto the new walls. A new two storey spiral stair rises up through the building to the new loft conversion within the original roof. This vertical shaft is further emphasised by bespoke stainless glass windows, which have been designed by the client's daughter.
Kitchens, bathrooms, joinery items, fixtures and fittings and an integrated AV system are all new elements within the dwelling.