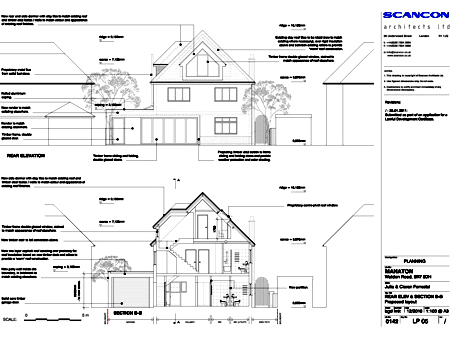 MANATON, WALDEN ROAD BR7
Completed in 2013 the project consists of the erection of a single storey side extension and a loft conversion to a detached two storey, four bedrooms family house, including one side and one rear dormer extension and some internal alterations.
The external appearance of the building has been altered by altered by applying insulated through coloured render, and replacing the windows. The aim is to increase the thermal performance of the building and also to complement the proposed modern interiors.
The side extension replaces an existing garage and facilitates the creation of a larger open plan family kitchen / dining room, allowing for family activities to be shared, while a large glazed opening in the rear wall will improve the relationship between house and the garden.
A timber clad frame projects one meter beyond the rear elevation and defines the new timber frame sliding-folding glass screen. It also acts as a weather screen and solar shading device.
The roof conversion facilitates an additional double bedroom with an en-suite shower room accommodating the needs of a growing family.
The development also comprises an extensive landscaping project with the aim of improving the relationship between the house and its surroundings. The creation of a summer pavilion, several sun terraces and a playground form part of the proposals.