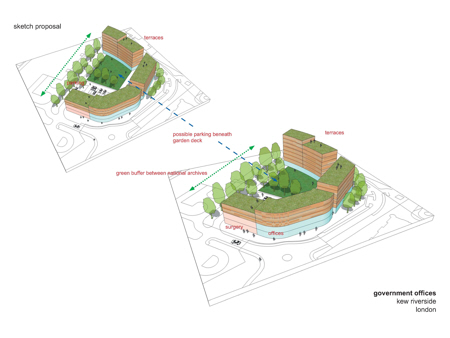 KEW RIVERSIDE, RICHMOND
This feasibility study, compiled for a private developer, is for the redevelopment of a site located in Richmond, in close proximity of the river Thames. The site is approximately 1.01 hectares in size and is framed by Bessant Drive and Strand Drive. The proposed five and six storey building is replacing a redundant government office building belonging to The National Archives of the United Kingdom.
The proposed mixed-use development comprises 3,500 m²/ 37,674 ft² of commercial space arranged over ground and first floor levels and 115 residential units of which, 26 are one bedroom flats at 46 m²/ 495 ft², 78 are two bedroom flats at 63 m²/ 678 ft² and 11 are three bedroom flats at 90 m²/ 969 ft², split between 40 affordable and 75 market sale units.
Kew Gardens Underground Station is in walking distance from the site, making the location ideal for residential development.