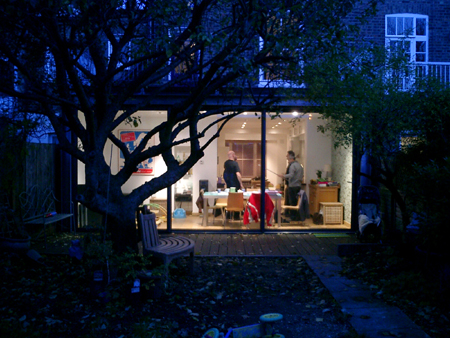 94 HUNGERFORD ROAD, LONDON, N7 9LP
IN COLLABORATION WITH CHANCE de SILVA ARCHITECTS
This new full width rear extension replaces an earlier lean-to kitchen and creates a large open-plan family space throughout the ground floor of this North London property, located within the Hillmarton Conservation Area.
The large single span structure is exposed to emphasise the threshold between inside and out and a substantial roof terrace was formed above. Natural light is drawn into the heart of the building via lean-to roof-lights which are precisely framed above the structural opening to the original rear wall of the building.
Planning permission was also obtained for a large studio located at the rear of the garden looking back towards the house.
Scancon Architects assisted Chance de silva Architects throughout the course of the project and were responsible for layout and detailed design drawings, production information and the day-to-day management of the contractor on site.