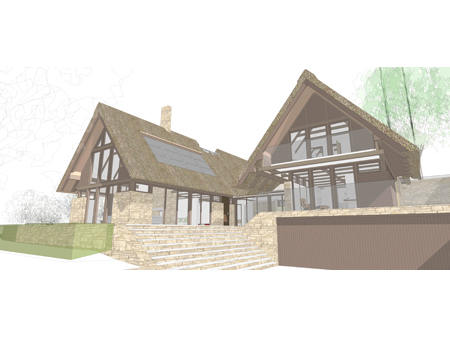 HIGH STREET, FLORE NN7
The submitted planning application seeks permission for the creation of a new detached house sited within a parcel of land of approximately 1.1 acres. The building draws inspiration from traditional timber frame and timber clad barn structures, which are typically erected over a brick plinth and roofed with thatch.
With an internal floor area of 288.9m² (excludes internal Garage / Plant Room), the house is substantial in size, offering generously proportioned living accommodation for a family.
The site slopes upwards toward the rear (east) and the placement of the building seek to make use of this gradient by partially submerging the structures into the landscape. This serves to lessen the visual impact of the buildings within the landscape and to benefit from the superior thermal performance of the surrounding soil.
Likewise the first floors are located within the pitch of the roof proper to limit the bulk and soften their visual appearance. As such, each dwelling is conceived as a single storey structure with a pitched roof over, where principle fenestration is confined to the roof gables in order to avoid the need for roof dormers. Where roof openings do occur these are recessed in order to emphasise simplicity of form, resulting in a contemporary appearance, yet making use of building materials which reflect the built history of the village.
This application is accompanied by a detailed and sophisticated Landscape Scheme Design, which seeks to compliment the new dwelling and enhance the natural setting of the development as a whole.
The overall scheme aspires to provide a new home of the highest quality by employing contemporary design solutions for the built form, thermal performance, materials and technologies used and combining these with the use of local building materials and indigenous landscaping.