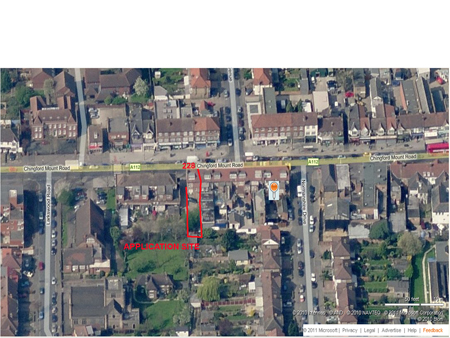 CHINGFORD MOUNT ROAD, LONDON E4
The project gained planning permission in 2013.
The site comprises a three storey building fronting onto Chingford Mount Road and is typical of the surrounding buildings along the high street.
The gained planning permission is for change of use of the first and second floor of the existing building, from business use to residential, forming a 2 Bed / 3 People dwelling and the demolition of the existing rear buildings and the erection of a new part one and part two storey building comprising a 1 Bed / 2 People residential unit above additional ancillary ground floor retail, bicycle parking, separate commercial and residential refuse and car parking facilities.
The proposal makes use of the empty strip of land behind the existing property, occupying almost the entire footprint of the site and matching the extent of the existing rear extensions at the neighbouring properties.
The front elevation and main aspect of the new development is South facing, taking full advantage of its orientation. Generous sized windows and folding doors will guarantee an adequate level of lighting in all the habitable rooms.
Designed to be contemporary in appearance, with particular emphasis to a high quality of living space, the buildings remain respectful of local materials and responds to the build forms around and along the site. Clear lines and projecting forms help to break up the appearance and mass of the proposed building and these separations are further enhanced by the use of different materials. The brick of the host building is combined with the render and timber cladding of the proposed elements.