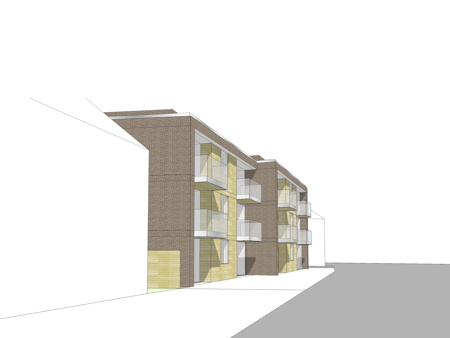 BURY SOCIAL CLUB, ALDBOROUGH ROAD, REDBRIDGE, NEWBURY PARK
This feasibility study is for the redevelopment of a site located in Newbury Park. The site is approximately 0.11 hectares in size, fronting onto Aldborough Road.
The proposed three storey development comprises 12 residential units of which 6 are one bedroom flats and 6 are two bedroom flats. The four ground level flats are designed to accommodate wheelchair users and there are two designated disabled car parking spaces out of a total of 12, as well as 12 bicycle spaces.
Private garden space is proposed at lower ground level, whilst upper floor flats benefit from generous balconies or roof terraces.